Navigating Search Results Help
Navigating Search Results
This help guide provides information necessary to assist users in navigating offender search results. On this page you'll see many options for paging, sorting and selecting from offender search results. The image below shows the typical search results page.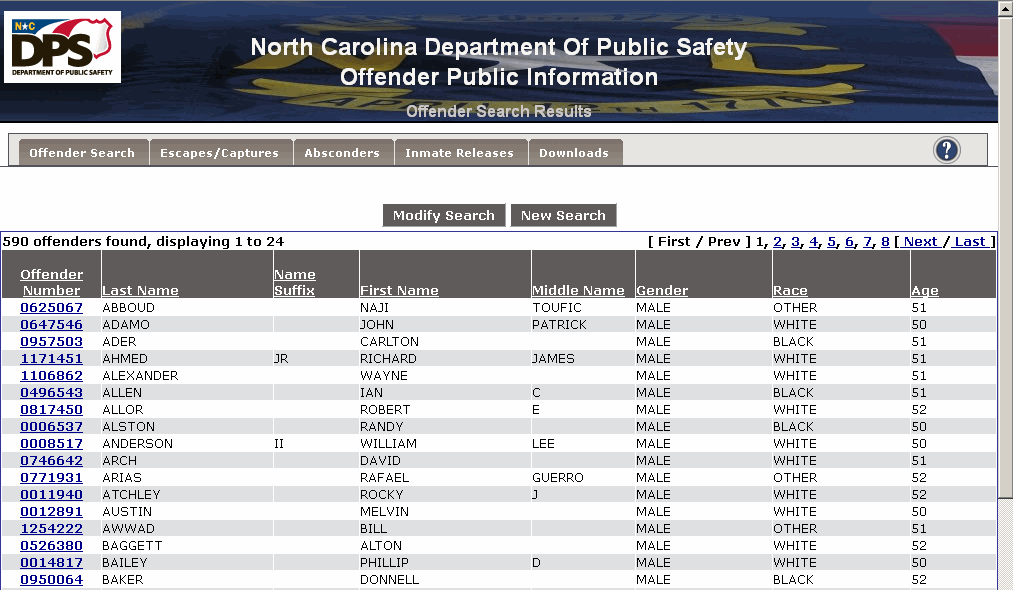 The offender search results are presented as a scrolling list that shows 24 offenders at a time. The top left of the search results box shows how many offenders were found in the search, and which 24 of the returned offenders are currently being shown. The top right of the search results box shows a series of links that allow you to jump to the first page, the previous page, a specific page number, the next page, or the last page of the search results. Use these links to move quickly through the search results without having to view each and every page.
Any column heading (those that are underlined, such as Last Name) can be clicked on to resort the list in order by that column. For instance, if you click on the Age heading, the offenders that were returned in the search results will be sorted in order by age, and the results will be redisplayed.
To select an offender from the results list and view more information about them, simply click on their Offender Number in the list.